1
C
A
R
E
S RENTALS / AEMFB Capital,
Eugen-Huber-Strasse 12, 8048 Zürich, Switzerland
Email: admin [at] 1cares.com
1CARES.com achieved a new milestone in bus rental with driver
Dear Colleagues,
Over the years our organisation has set a number of personal records in the rental of a bus with driver. One such record, still unbeaten in its category, was set in 2016 when we made a transfer for 960 passengers in one go in Paris mobilising for that 20 buses and drivers.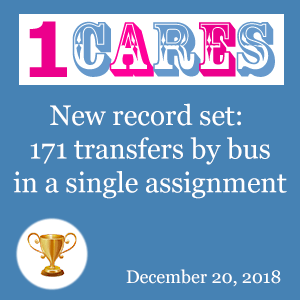 We are proud to announce that a new record was set today, December 20, 2018, as we finished an order for our client Engenda Group (https://www.engenda-group.com) from the UK. In this assignment we carried out 171 transfers by bus in Belgium and the Netherlands, 6 days per week over a month and a half. This job raised the bar to another level as our record in this category was almost doubled.
The requirement for the order was that the transfers were to be carried out precisely on schedule every single time. It was crucial for the Engenda engineering teams to depart exactly on time in the morning (a 3 minute deviation from the fixed departure time was an issue !) so they could timely start their work but also it was equally important to be on time for the return as they hurried to leave for a well-deserved rest after a busy working day.
We are delighted to report that we were able to deliver this assignment according to the high expectations day in day out over the course of 40 working days involving up to 4 buses and drivers per day. Obviously, it would not be possible without our highly valued partners and, in particular, Cito International BVBA from Belgium and Jan de Wit Group from the Netherlands - both are very reliable, highly responsible and hard working companies. Our special thanks goes to Mr. Martin Esselbrugge and his team, Cito International BVBA, who did over 80% of all the transfers for this order. They did a fantastic job !
Benefitting from this great occasion, we also take the opportunity to wish all of you a Merry Christmas and a Happy New Year !
Administration,
1CARES RENTALS / AEMFB Capital
Eugen-Huber-Strasse 12, 8048 Zürich, Switzerland
Email: admin [at] 1cares.com