Rent a van with driver in Santiago de Compostela
If you need to rent a van with driver in Santiago de Compostela we will be happy to propose you our chauffeured service at competitive prices. With us you can hire a van with driver in Santiago de Compostela suitable for any occasion that you may have be it an airport transfer, a business travel or a sightseeing trip.
1CARES.com proposes you in Santiago de Compostela the rental of van with driver. We work with many carriers and so are able to offer you in Santiago de Compostela a wide range of vans and minibuses at the best price. Our vans are Mercedes-Benz Sprinter, Volkswagen Crafter and Citroën Jumper. A van can carry from 10 to 18 passengers depending on a particular model. All our vans and drivers are properly licensed and insured in accordance with the rules applicable in the jurisdiction of the service. You can choose your van based on its passenger capacity, class (economy, business and luxury) and even foreign language skills of its chauffeur. If your group number more than 16 persons or you have a lot of luggage you may also look into renting a coach with us. If your group is up to 8 persons also think about a minivan rental with driver instead. This would be more cost efficient for you.
You can rent a van with driver with us in two principal ways:
Online booking
With direct online reservation you book a minibus with driver in real time depending on the availability of the minibus at the chosen time and location. It is the fastest and the easiest way to book – the whole process will not take you more than three minutes. Your booking confirmation will be issued immediately.
Not all of our vans are available for direct online reservation especially when it concerns more exclusive types such as a luxury minibus. And so you can also rent a van through our quotation system, which will provide you access to all our vans and minibuses.
Request a quote
You will make a choice from a list of pre-defined trips or will describe us your trip in a few words. If your trip is in our list of pre-defined trips, we will provide you with a quote immediately. For the trip or the van specified by you we will come back with our offer within four hours (outside of night hours 22:00-8:00 local time).
---
Consult our list of countries and major cities where you can rent a van with chauffeur with us.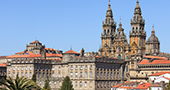 Santiago de Compostela is located in the north west of Spain, in the province of A Coruña. It has a population of 96 thousand people. The city is especially famous for its pilgrimage to the tomb of Saint James the Greater situated in the Cathedral of Santiago de Compostela. It was one of the most important Catholic pilgrimages in the Middle Ages, almost disappeared in the 19th century but reintroduced in the 20th century. More than 200 thousand pilgrims come every year for religious, spiritual or sports reasons. It has two sites listed in the World Heritage : Cathedral of Santiago de Compostela and the Old Town. Santiago de Compostela's rich cultural and religious heritage attracts more than 3 millions visitors per year.