We will be happy to serve you whenever you need to hire a minivan with driver in Lyon. We provide a variety of chauffeured minivans for airport transfers, sightseeing itineraries, for business meetings and other needs. Naturally, our service of the rental of minivan with driver in Lyon comes at a competitive price and with a guarantee of quality.
1CARES.com proposes the rental of minivan with driver in Lyon. A number of carriers in Lyon are members of our reservation system and so we are almost always able to come up with our offer to your request in Lyon whenever you ask us. Our fleet of minivans range from a normal minivan capable to carry up to 8 passengers and driver such as Volkswagen Caravelle to a luxury minivan such as Mercedes-Benz V-Class. (Note that a luxury minivan has a capacity limited to 7 passengers + driver.) Besides, we may probably be able to provide you with a chauffeur speaking your language.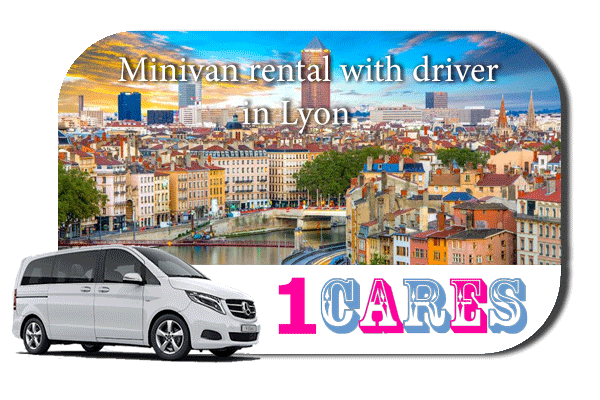 To rent a minivan with driver in Lyon is quite straightforward provided you delegate this task to the true professionals. 1CARES.com has been providing this service in France every day for a number of years. Our decade-long experience in the rental of minivans with driver in Lyon have developed great partnerships between us and our trusted carriers. This is why we are able to guarantee you availabilities, reasonable prices and high quality service.
The rating that we have from our customers for the rental of a minivan with driver in Lyon is 4.7 out of 5. The aggregate rating computed from 90 reviews of our customers is based on a three-year rolling timespan. Needless to say, we are proud of the achieved results and do our best to continue delivering great value to our customers in Lyon.
Our website allows renting a minivan with driver in Lyon directly online or through a request for quote. The latter way allows accessing a wider selection of minivans in Lyon.
Rent a minivan with driver in Lyon

online

Booking a minivan with driver in Lyon is possible directly in our live reservation system. It will take you less than five minutes to complete the reservation process for your minivan hire with driver in Lyon. Our automated system will rapidly process your order. For your peace of mind each order received through the online booking process is also verified by our Customer Service.
Request a quote to hire a minivan with driver in Lyon
In certain cases, for example, when you require a complex trip or need a minivan of a specific brand it may be preferable or even necessary to book a minivan with driver in Lyon via our quotation system. This way of booking provides you with access to all our minivans available for hire with driver in Lyon. Our quotation system offers you a choice of standard trips or you can freely describe us your needs. Normally, we will come back to you with our offer for your minivan rental in Lyon within four working hours.
Price of rental of minivan with driver in Lyon
The price of hiring a minivan with driver in Lyon is greatly impacted by several key factors such as mileage, hours of service and minivan category. The average price for the rental of a minivan with driver in Lyon assuming 8 hours of service with the included mileage of 80 kilometers is € 435. However, this information just gives you an idea about the price level as each rental situation is different. Therefore, please send us your programme of travel in Lyon for an exact price estimate.
Note that the price published on https://www.1cares.com/fr/en/all/vehicle-rental-with-driver-in-Lyon.html is available OnlineOnly until 2020-05-18 subject to availability of a necessary minivan and driver in Lyon.
Regardless of how you make your reservation for your minivan hire with driver in Lyon on our website, our Customer Service will support you throughout your entire trip.
Latest evaluations:
Ian P.

, 2019-11-12,

5

/

5

,

The service was excellent. Our minivan was cosy. The booster seats for our two kids were provided. Thank you very much.
|
Heidi B.

, 2019-10-30,

4

/

5

,

Our experience with your rental with driver in Lyon was good. A point to mention: the driver was not able to accept payment by card and so we had to find cash to settle the balance to him.
|
Diego C.

, 2019-10-24,

5

/

5

,

All in Lyon was exceptional
|
Michael H.

, 2019-10-09,

5

/

5

,

We have rented a Mercedes V-Class for our guests for a wedding ceremony in Lyon. The service was professional, the driver with good manners and well dressed.
|
Михаил П.

, 2019-09-01,

4

/

5

,

Большое спасибо за услугу в Лионе. Минивен и водитель были без претензий.
|
Petr D.

, 2019-08-28,

4

/

5

,

Your service was good enough for our purpose. Thanks.
|
Simon B.

, 2019-08-19,

5

/

5

,

We rented a minivan with driver in Lyon to bring home our guests after our anniversary party. The driver arrived on time, was courteous and professional.
|
Ismael G.

, 2019-08-01,

4

/

5

,

support was acceptable. The van in Lyon was as requested.
|
Diane R.

, 2019-07-29,

5

/

5

,

La location s'est très bien passée. Notre chauffeur Pierre était très sympatique. Merci beaucoup!
|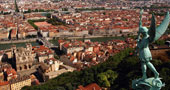 With 480 thousands inhabitants, Lyon is the third largest city in population in France. Its strategic location on the crossroad north-south in Europe contributed to its development as an industrial city, particularly in the petrochemical and pharmaceutical sectors. Sometimes viewed as the capital of the French province, Lyon has also preserved its historical heritage. The medieval district Old Lyon and three other architectural complexes feature on the World Heritage List. Lyon is also known for its rich culinary tradition.